Hey guys! You know I'm a nature lover, right? My house is filled with potted plants, my property is filled with gardens and fruit trees, and I'm just a sucker for all things green and natural and happy. So, I am super excited to bring you a chance to win this really fun prize package that can get you and your kiddos excited about growing things too! Check it out…

Use the Discount Code to Save 15% Off Your Easter Egg Kit Order!
CODE: 15percentegg

*Valid for a limited time & while supplies last!
About the TickleMe Plant:
TickleMe Plants are the only plants that will close their leaves and lower their branches when tickled! Grow your plant from seeds OR purchase a mature plant right away! TickleMe Plant Company has a plant set or kit for everyone! Take a look at our favorite TickleMe Plant Kits Below!
Just in time for Easter! TickleMe Plant Easter Egg Terrarium with Paint Set! Paint This Large 6 inch Egg and Grow The Plants Inside. The Leaves Close up When Tickled. It can Produce Sparkling Pink Flowers! Use the discount code (15percentegg) to save 15% off of your Easter Egg Terrarium kit. The discount code is only valid for a limited time and while supplies last! Don't miss out on your chance to get this fun Easter TickleMe Plant kit for your kids!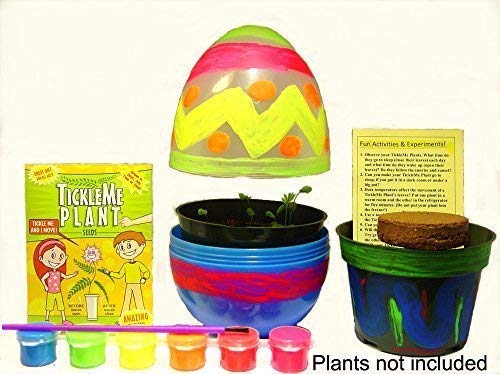 Sharing the fun! The TickleMe Plant Classroom or Science Party kit includes supplies for thirty students! Each Box Kit contains: 30 four inch flower pots, 30 soil wafers that expand to fill the pot when you add water, 15 packs of TickleMe Plant Seeds (Mimosa pudica), 1 TickleMe Plant Book filled with pictures and information showing how to care for and play with your Pet TickleMe Plant.
Fun for the Kids! TickleMe Plant Deluxe Greenhouse Kit with 6 Color Paint Set for Kids with 10 Fun Activities. This TickleMe Plant deluxe activity kit comes complete with all you need to grow your very own TickleMe interactive plant. It includes seeds, the plant pots, growing medium, a greenhouse, science activity card, AND acrylic paint set with a brush to paint the pots! This set is ideal for parents to inspire their kids with fun science activities. Grow the only house plant that closes its leaves and lowers its branches when you tickle it. What a great learning experience!
ENTER TO WIN!
One Winner Will Receive a TickleMe Plant Deluxe Greenhouse Kit for Kids!

The giveaway is open US Only, 18+
The giveaway ends 5/3 at 1159 pm est
Be sure to come back daily for more chances to win.
Mommy's Playbook Giveaway Rules: This giveaway is Sponsored by TickleMe Plant Company and hosted by Mommy's Playbook. Victoria and/or Mommy's Playbook, Participating bloggers, are not responsible for prize fulfillment. By entering this giveaway you are giving the giveaway host and/or event sponsor permission to retain your email address for future communication, you may choose to opt-out of such communications at any time. This giveaway is not sponsored or endorsed by any social media outlet including, but not limited to, Facebook, Instagram, Twitter, and Pinterest. Please contact Victoria (at) MommysPlaybook.com regarding any questions you have pertaining to this giveaway.