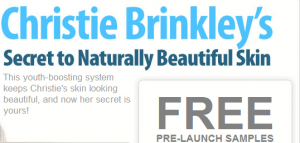 Get a FREE Skincare Sample Kit filled with the newest products from Christie Brinkley- before they're even released in stores!
Get YOUR Free Kit:
Go to ChristieBrinkleySkincare.com, and fill out the simple form to request your sample kit.
You'll get a confirmation screen letting you know that your samples are on the way!
Win one of 100 Starbucks Gift Cards!
This freebie comes to you from WomanFreebies.com, one of the best places to find great free samples, coupons, and more- chosen especially just for us!
Sign up here to get their once-daily newsletter, filled with great new free stuff, then head over to their Facebook page, "Like" them, and enter your name and email address to win one of the 100 FREE Starbucks Gift Cards!
{Love the deals and freebies I post? Then show me some support in the Cheap Sally contest!! You can click to give me YOUR vote- Vote Meagan Paullin to tell them that I deserve a spot as one of Washington's Top 5 Frugalistas! Thanks!}