Summer Smoothies!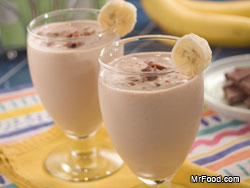 Smooth Banana Smoothie
Preparation Time: 5 min
Ingredients
2 cups lowfat milk
2 medium-sized ripe bananas, peeled and sliced
1/3 cup chocolate-flavored syrup
2 large scoops frozen vanilla yogurt
Instructions
In a blender, combine all the ingredients and blend on medium speed until smooth. Pour into glasses and serve.
Or, try this one:
Wake 'em Up Coffee Smoothie!
Ingredients
1 cup milk
1/4 cup instant coffee granules
1/3 cup sugar
1 envelope (1-1/4-ounces) chocolate or vanilla instant breakfast drink mix
3 cups ice cubes
Instructions
In a blender, blend all ingredients except the ice until well combined.
 
Add ice and blend until well combined and slushy. Serve immediately.
Yields about 1 quart, or 3 to 4 servings each.
They sound super yummy right? And super easy. That's my favorite combination in the kitchen.
To get more simple recipes like this from Mr. Food, get some of his FREE e-books filled with recipes. I love 'em.
The Let's Get Grilling guide has tons of great easy recipes and tips to help you plan some pretty awesome summer BBQ's.
The Decadent Desserts free cookbook is filled with yummy goodies that are simple enough that you can try a new one each night. Seriously, super quick and easy.
Blue Ribbon Casseroles is honestly one of my favorites. I love being able to throw a bunch of good stuff into one big pan, bake, and serve. That's my type of cookin'.
The Mr. Food Best Brunch recipes book is a really good one too. Find some really good make-ahead dishes, some super yummy sticky buns, and more!
What I do:
I went through all of these ebooks, printed off all of the recipes that I liked, and put them all in a big 3-ring binder, to have a new cookbook. I VERY seldom buy cookbooks anymore, since there are so many great recipes to be found online, and lots of great ebooks like this!
Another option is to just download the ebooks, and then check 'em out once a week and print out just a couple new recipes to try. These are such timesavers, and they're great budget recipes too. They all use simple, but good, ingredients.
Which one is YOUR favorite??