Join in the fun in the Welcome Wednesday Blog Hop!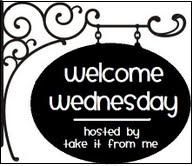 1. Follow the Welcome Wednesday Host (Take It From Me) as well as the 2 Spotlighted Blogs of the Week. (These will make up the top three slots on the Linky). 
2. Link up your blog name and URL with our Linky. (You only need to add your info once for it to be seen on all the blog hops)
 3. Grab our Welcome Wednesday button and include it in a post about the event on your blog.
4. Go to as many blogs on the MckLinky as you want and Follow them. Be sure to tell them that you are visiting from Welcome Wednesday!
5. Be sure to Follow Back any new friends you make from our Welcome Wednesday event!
If you link up, please leave me a comment here, so I can go and say hello on your page too!
And if you're a social media junkie like me, you can also check out Sunshine and Sippy Cups on Facebook or Twitter. I love new faces!